Pierre Text Menu Application Overview
What can you do with the Pierre Text Menu Application?
The Text Menu Service created by Pierre is intended for those who wish to work without a gui or the web. This environment is very similar to applications such as Pine which involve moving from screen to screen with very simple commands.
The tutorials for this service have been broken into the browse, simple search, and expert search. Please note that advanced search is not supported in this particular service. There are other commands for output formatting, output file specification, and page navigation that may prove useful which can be applied to any of the browse or searches. These will be included with each of the tutorials listed. While this may seem repetative, the idea is to try to create comprehensive pages without the need to jump all over the site.
Getting Started
One of the files that is generated by Pierre is called run_text_menu_application which is batch file. Just double click on it to start and you should be presented with the start screen which looks like the figure below. Pleae note that at this time there is a small problem with the sizing of the window that appears - it may look like some of the screen is missing. Just expand the window and the entire screen should now be visible. This is a known issue and will be looked at soon.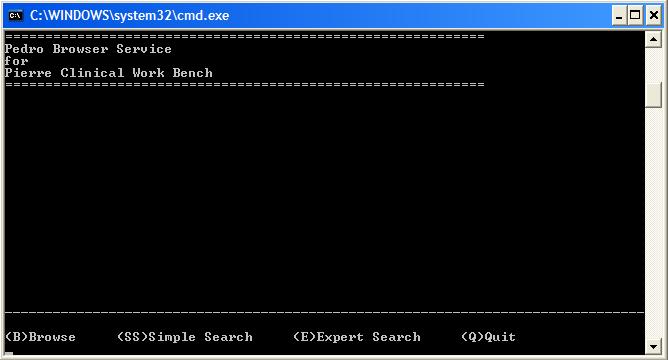 This screen has the following menu options.
(B)Browse
for going to the browse section
(SS)Simple Search
for going to the simple search section
(E)Expert Search
for going to the expert search section
(Q)Quit
to quit the application